Golf
Meadows Nabs Top Honor
Iowa Golf's 9-Hole Course of the Year in 2012
While many small town golf courses struggle to survive in the current economic climate, the Meadows Country Club in Moville continues to improve its clubhouse and course. In 2012 the Board of Directors from the Iowa Golf Association named the Meadows as the state's 9-hole Course of the Year. The Meadows was the first nine-hole course in Northwest Iowa to be named course of the year in over a decade.
In honoring the Meadows, the IGA recognized the club's efforts in "clubhouse and golf course renovations, implementing a personalized membership drive, and being heavily involved in giving back to the community." Over the past few years renovations of the clubhouse have been continuous and easily noticed. New windows were installed providing an attractive view out on to the course, the bar and dining area were updated and improved, and a new heating and cooling system were installed along with improved insulation.

"I can speak personally to the great job done with the clubhouse renovations," said Jason Bjorklund, IGA director of membership services. "Each of the past few seasons I visited the club and saw firsthand the transformation." The club's latest project is an indoor hitting zone
that will allow golfers the chance to work on their swing during the winter months. The practice facility, which will be housed in part of the largest cart shed, will also be available to baseball and softball players, who want to practice hitting
The Meadows community involvement includes hosting tournaments that are major fund raisers for the Moville Chamber and the Wildcat Athletic Club as well as hosting a junior golf clinic. First constructed in 1968, the Meadows currently boast a membership of close to 200 golfers. The Meadows course Superintendent and Clubhouse Manager is James Wright.
Meadows facility a 'hit' in Moville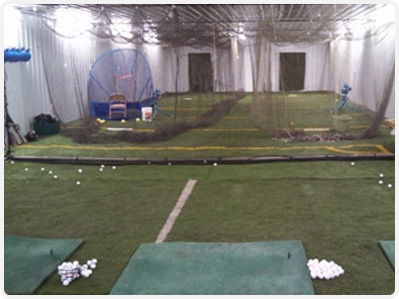 The Hitting Zone at The Meadows Country Club is open and continues to see much use.
The Hitting Zone is Moville's first indoor golfing/batting/pitching/fielding structure. The joint venture of the Wildcat Athletic Club and The Meadows involved taking an existing golf cart shed and turning it into an indoor hitting area with three golf stations, two batting cages and three pitching lanes.
The heated Hitting Zone, located in the largest shed south of the parking lot, features FieldTurf as its playing surface.
Members may sharpen their golf skills throughout the cold-weather months, as young baseball and softball players do the same.
The Hitting Zone not only gives the community another asset to promote our fitness and well-being while bringing residents together in a fun environment, it offers Iowa's 9-Hole Golf Course of the Year an added attraction to help grow its membership roster.
For information about the Hitting Zone, contact James Wright at (712) 873-3184.
The Meadows Country Club, Meadows Course
9 holes over 3,388 yards with par of 36 (Public)
1483 Humbolt Ave
Moville, IA
(712) 873-3184
http://www.meadowscountryclub.com/